Return to Headlines
Lakewood recognized at annual State of the City Address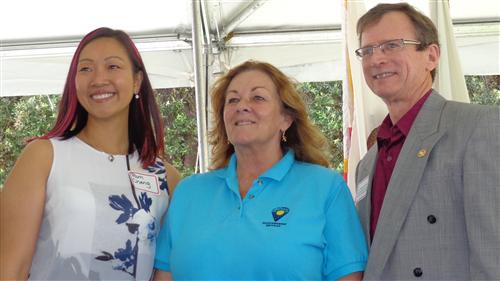 The Sunnyvale School District was well represented during the 2016 State of the City Community Awards held at Sunnyvale's Civic Center July 9, 2016.
The annual event recognizes exceptional members of our community. Sunnyvale School District programs and staff were recognized for their contributions to education, the arts, and the environment.
Lakewood Elementary School was first to be recognized at the event for Outstanding Environmental Achievement. In April, the school implemented a zero-waste composting program in collaboration with Leadership Sunnyvale and the City. The nearly 440 kindergarten through fifth graders pitched in to drastically reduce the school's waste.
The composting pilot took place over just 5-weeks and in that short time students diverted nearly 2,000 pounds of food scraps from the landfill, recycled 12.5 cubic yards of milk cartons and reduced the school's garbage costs by 50 percent.
Each week, trained students monitored their classmates as they separated food scraps from garbage and recycled their milk cartons they also encouraged classmates to donate any uneaten food to the share table for any students who might still be hungry.
After processing, the one ton of food scraps that was diverted from the landfill generated 200 gallons of recyclable water, 20 gallons of cooking oil for biofuel, and 500 pounds of animal feed.
"This program is sustainable in every sense," Vice Mayor Gustav Larsson said during the event. "Each year, experienced students will teach the process to a new kindergarten class to keep the process moving forward."
He also highlighted that Lakewood has set an example for other Sunnyvale schools as the zero waste composting program will begin at Cumberland in the fall.
"All of Lakewood students can take pride in knowing that their actions make a difference for the environment and that they can lead the way in helping others to do so as well," Larsson said.
Columbia Middle School Music Teacher Warren Scott also received Outstanding Contribution to the Arts and San Miguel Elementary's Colleen Lynch-Espinoza received Outstanding Educator of the Year.