Return to Headlines
Columbia Music Teacher Warren Scott recognized at State of the City Address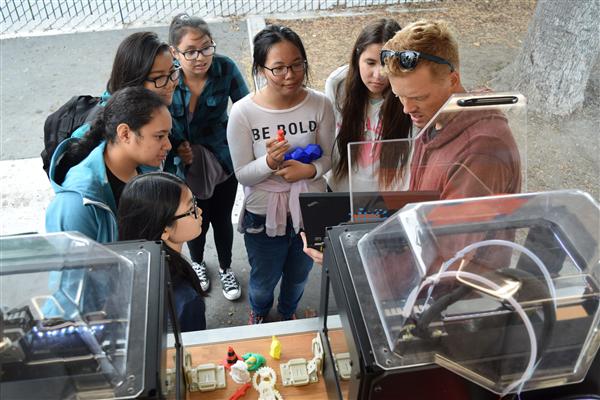 The Sunnyvale School District was well represented during the 2016 State of the City Community Awards held at Sunnyvale's Civic Center July 9, 2016.
The annual event recognizes exceptional members of our community. Sunnyvale School District programs and staff were recognized for their contributions to education, the arts, and the environment.
Columbia Middle School's Music Director Warren Scott was recognized at the event for Outstanding Contribution to the Arts.
Since Warren came to the school three years ago, Columbia Middle School's music program has grown so that currently a quarter of the 730 student population wants to take music. More than 200 students are enrolled in either Symphonic Band, Concert Band, Beginning Band, Orchestra, Beginning Orchestra, Choir or Beginning Chorus.
With a large majority of students unable to afford instruments or lessons, Warren and CMS Principal Mary Beth Allmann applied for a Mr. Holland's Opus Foundation and received a grant for instruments worth almost $16,000. The strength of the school's music program was considered key in securing this grant.
To make sure every student could travel to the annual Anaheim Heritage Festival on Fullerton College's campus, a music competition for youth, Warren coordinated students to lead school-wide fundraisers from selling cookie dough to candy. Warren even joined parents who lent their support selling concessions for a 14-hour day at Levi's Stadium.
Both band and orchestra went on to take first and choir took third at the competition and received valuable feedback and an onstage lesson from the panel of judges. Colleagues of Warren have said he works to instill a sense of belonging and empowerment in his students. When Columbia students graduate, many go on to Fremont High school. Warren prepares them to perform at that next level by organizing collaborative performances between students.
"It is an honor to have him as a colleague," said Fremont High School Instrumental Music Teacher Joe Kelly. "The students he sends me yearly are not just good musicians, but also great young people."
Community Awards were also given to Lakewood Elementary School's Zero-Waste program for Outstanding Environmental Achievement and San Miguel Elementary School's Colleen Lynch-Espinoza for Outstanding Educator of the Year.