Return to Headlines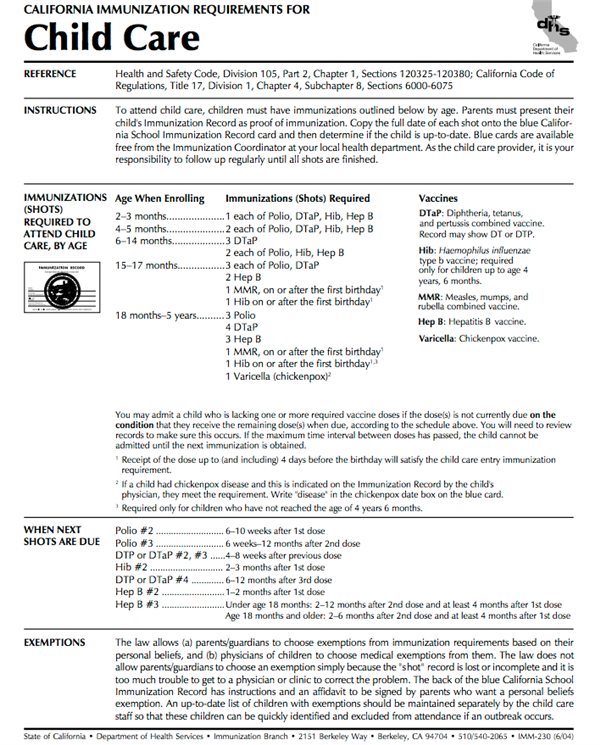 Tuberculosis (TB) Risk Assessment for School Entry
Health Examination Requirement (CHDP)
Every Kindergarten Student is required to show proof of a physical exam by having your child's medical provider complete the
Report of Health Examination for School Entry
by May 31 of the Kindergarten year. Transitional Kindergarten students who have fulfilled this requirement do
not
need to provide proof again upon Kindergarten entry. Newly entering 1st grade students (who have not attended Kindergarten) have 90 days after school entry to complete the physical exam. Please note that the physical exam only fulfills this requirement, if it was completed after March 1st before the student enters either Kindergarten or Transitional Kindergarten. Any physical exam done at an earlier date cannot be accepted. If you do not have a doctor or health insurance for your child, you may contact the Healthier Kids Foundation of Santa Clara County at
www.hkidsf.org
, or call (408) 564-5114. You may also contact the Family Resource Center at San Miguel Elementary School at (408) 522-8200 ext. 1890
Oral Health Exam Requirement
California law requires that every student enrolling for Kindergarten or Transitional Kindergarten have a dental checkup by May 31 of his or her first school year. Dental evaluations that have happened within the 12 months before your child enters school also meet this requirement. Please make an appointment with your child's dentist and have him/her complete the Oral Health Assessment Form. If you do not have a dentist or dental insurance for your child, you can get help enrolling your child by contacting the Healthier Kids Foundation of Santa Clara County at www.hkidsf.org, or call (408) 564-5114. You may also contact the Family Resource Center at San Miguel Elementary School at (408) 522-8200 ext. 1890 or call the Children's Dental Center in Sunnyvale at 877-567-6453.

Guidelines for dropping off Medications
If your student needs to take medication during the school day, our trained staff will be able to help. You can pick up forms from your child's school, or download it from the "Medical Forms" page.
Confirm that the appropriate medication forms have been completed correctly:
The doctor's order needs to match the bottle description, dosage, and name.
The form must have a doctor's signature and date.
The form must have a parent's signature and date.
Medication:
Needs to be in a labeled pharmacy bottle and labeled with the student's name, medication and dosage matching the information on the permission form (see above).
If it is a controlled substance, such as Ritalin, the pills have to be counted by the staff person who is accepting the bottle, with the parent present.
After the pills are counted, the staff person accepting the pills needs to note on the medication log the number of pills, initial next to it and the parent initials it.
DO NOT drop off medications without making sure they are properly signed in by a staff person and noted on your child's medication log sheet(s).
Even over-the-counter/non-prescription medication MUST be accompanied by a doctor's order and signature and parent signature.