Literacy Instruction in Kindergarten
We all know reading is a complex process. As kinder teachers, we have the unique privilege of developing our young students into readers. Reading instruction in Kindergarten has five main components: Phonemic Awareness, Phonics, Fluency, Vocabulary, and Comprehension.

Children enter Kindergarten with such divergent backgrounds that providing appropriate reading instruction at their individual levels can be challenging. It is critical that teachers create literacy rich classrooms in which children are read to, children read with others, and where children eventually read independently. We believe that Kindergartners learn best through hands-on, meaningful learning experiences.

Click on the links below to find research rationale, lessons, and resources:

What are the "Big Five" Components of Reading Instruction?

What does Literacy Based Universal Access look like in Kindergarten?
Management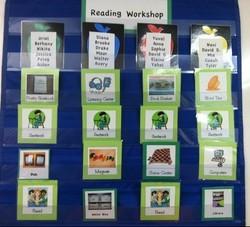 Literacy Work Centers